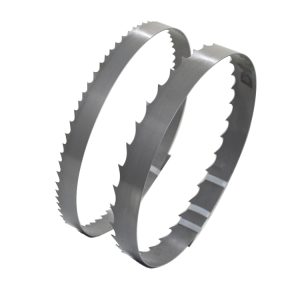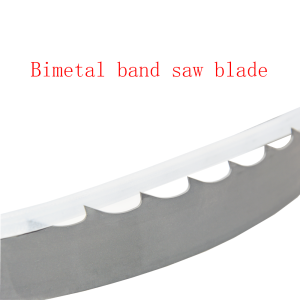 Material: High Speed Steel (HSS) :M51, M42, M35.
1. Features:
bimetallic material structure, conventional B318 back material, good flexibility, strong fatigue resistance, can withstand huge tension, tooth hardness HRC65~69, high wear resistance and high red hardness, serrated teeth are not easy to break, and service life long.
2. Application:
It can be used with any type of band sawing machine, and is suitable for continuous sawing of almost all types of metals, such as: structural steel, alloy steel, bearing steel, stainless steel, heat-resistant steel, aluminum alloy steel, mold steel, etc.
3. Tooth shape:
turtle back teeth, tensile teeth, high and low teeth, large and small teeth;
4. Conventional width + thickness:
13×0.65, 19×0.65, 19×0.9, 27×0.9, 34×1.1, 41×1.3, 54×1.6, 67×1.6, 80×1.6
5. Tooth pitch:
The narrower the saw blade, the smaller the relative pitch, and vice versa, the wider the saw blade, the larger the relative pitch. The specific tooth pitch depends on the material being cut.
13*0.65, regular pitch 8/12, 10/14, 14/18
19*0.65, regular pitch 5/8, 6/10, 8/12
19*0.9, regular pitch 3/4, 4/6, 5/8, 6/10
27*0.9, regular pitch 2/3, 4/6, 5/8
34*1.1, regular pitch 2/3, 3/4
41*1.3, regular pitch 2/3, 3/4
54*1.3, regular pitch 1.4/2, 2/3
54*1.6, regular pitch 1.4/2, 2/3
67*1.6, regular pitch 1.0/1.5, 1.5/2
80*1.6, regular pitch 0.75/1.25, 1.0/1.5, 1.4/2
Remarks: 34×1.1xT22, T22 tooth pitch is specially for cutting wood!
Related Products:
https://www.dhcutter.net/product-category/bi-metal-band-saw-blade/
https://www.dhcutter.net/shop/amazing-selling-blades-meat-bimetal-sierra-de-corte-bi-portable-band-saw-blade-for-metal/
https://www.dhcutter.net/shop/bimetal-band-saw-blades-quality-m42-or-m51-can-be-customized/
Related Video: